First day of the Carmel Arts Festival. Knocked two paintings out but the first one won't count since I did before the official registration. No worries, as there are more to come.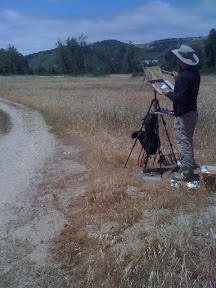 Me somewhere up in Carmel Valley, finally having found so sun.
The second painting was down on Carmel Beach after check-in. (no photo yet) A sunset with pines and dunes. That one is definitely a keeper. Or a seller, I mean...
Up at 5:30 am tomorrow to see what the day brings.
And before I say good night, Here's a riddle for you:
Q: How can you tell the plein air painters from other kinds of artists at a party?
A: It's easy, they'll be the ones huddled in the corner talking about tomorrow's weather.
Ha!!!
Good night
Thomas
(Morning fog and clearing expected tomorrow - Ha, again!)
- Posted using BlogPress from my iPhone
Location:W Franklin St,Monterey,United States