...But got kicked off 17 Mile Drive (Pebble Beach Golf Course) at 11:00 pm for looking like a terrorist plein air painter after dark. Larry Moore and Don Stevens were with me. Security guard escorted us out. Ended up at the Jack London pub for drinks instead. Too bad. Would have been a great nocturne: Ghost Trees in Moonlight.
Me at Garapata this morning. Trying not to be blown off into the ocean below. Awesome painting.
Here me a photo of me being "photo bombed" by a cub scout in Point Lobos. Made me laugh.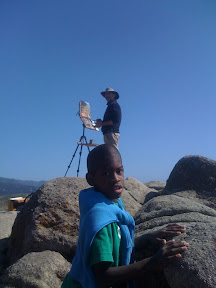 - Posted using BlogPress from my iPhone
Location:Cedar St,Monterey,United States