Today's photos:
Talked our way onto an exclusive golf course in Los Gatos. They gave us carts to go out on the green.
Heading out to the painting site. Never driven one of these Things before.
Erich Neubert, Bob Frank, and Brenda Boylan, all painting the 14th Hole.
Me, painting the 14th Hole.
A closer shot with the painting.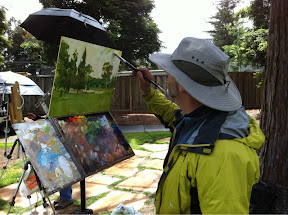 Mid day was spent touching up paintings and a little meditating.
Then up to mountain view winery to paint the sunset.
Bob Frank in this photo.
I'll work this painting for two nights. Something I haven't done for a while. Could be a good one if I don't kill it.
G'nite
T
- Posted using BlogPress from my iPhone