Sold a painting today at the Oxford Yacht Club during the Pre -Plein Air Easton Paint out.
"Galatea" 9 x 12 oil on linen on panel.
Here I am, on the deck, painting the boat during a regatta. It is a 1973 Troy Lee designed by the man who designed boats for the America's Cup. Beautiful.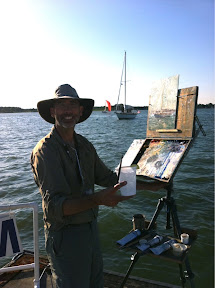 And here is the boat again just before I drove home to my hosts.
G'nite
Thomas
- Posted from my iPhone