Today the competition starts. We began with a QuickDraw, starting at 11:00 am. Never the best light to paint in. I painted the 'Rockpile', down below the Laguna Art Museum . Its a local surfing break, although the waves weren't doing their thing at the time. It was high tide. Here is a quick snap: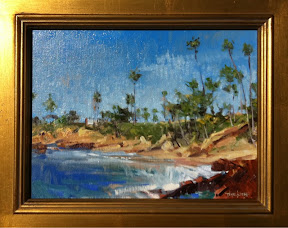 Then, a quick bite with friends and off the Corona del Mar to paint another rock pile during tonight's sunset. I liked the outcome but need to work on my waves. There is an anatomy, a structure to a wave I haven't locked onto yet. Always something to learn, eh?
Man, the weather is better than last year.
Good night!
Thomas